---
Ancestors of Elijah Fincher's , Dorothy Kane Sievers, my grandparents html
First four generations of descendents of Hilliard J. Fincher (1815-1869) in plain text all known descendents living people)
Ernest Hilliard Fincher's doc on the Pickens and Finchers.
---
Family History Documents in my Archives
Although labeled "A Fincher Family" home page this page also contains genealogy information on the family names of Anderson, Belk, Casady, Chastain, Hunter, Killough, Pickens, Kane and Wallace.
---
Anderson

Notes from _History of Old Pendleton District_ by R.W. Simpson
Starts with John and Jean Anderson in 1735.
DAR Application from Kathryn Fincher Fahey showing line from General. Robert Anderson through Septima Anderson.
Notes on _The Old Stone Church Oconee County South Carolina_Details of the life of Andrew Pickens and Robert Anderson.
"Recollections of my Grandfather Anderson" by Alice Evans Allen. Details a little of his life, and quite a bit about Quanah Parker. 5 handwritten pages from David Rothrock.

Belk

The Will of Joseph Belk, 1863, a few pages.(From Lynette Myers).

Casady

Ed Casady's 50th Anniversary Notice

Chastain

Cora Chastain's Social Security Application
Funeral page for Cora Chastain showing birth and death dates. Feb 4, 1879-July 9, 1967.
1910 Census for Alonzo "Lon" Chastain on line 27. Note Ruth and George listed as stepchildren with the last name of McAllup(?) McAlief(?)
1920 Census for Alonzo "Lon" Chastain on line 69. Note: George is listed as a son, and Ruth H. is not there.

Fincher

Newspaper Accounts (Mostly "The Albany News") of the following

Pickens Steele FINCHER (8 May 1871 - 5 May 1957) Obituary
s- Nanette Helene HUNTER (1 Dec 1879 - 5 Nov 1968) Obituary pic m. 4 Jan 1898 50th Anniversary

Hershal Pickens FINCHER (7 Dec 1899 - 7 Jun 1900)
Rodney FINCHER (7 Dec 1899 - 6 May 1900)
Annie Adele FINCHER (7 May 1901 - 17 Jul 1985)
s- Charles Andrew TUCKER , Rev (1 Dec 1898 - 12 Dec 1983) m. 9 Jun 1926 Wedding p1, p2
Theron Pickens FINCHER (8 Aug 1902 - 16 Feb 1987) Obituary s- Zelda Lurline WALLACE (4 Jun 1901 - 1 May 1996) Obituary m. 25 May 1924 50th 60th anniversary

Melbourne Elijah FINCHER (3 Dec 1903)
s- Louise LANHAN
Daughter FINCHER (2 Oct 1905)
Orwyn Hunter "Mike" FINCHER (3 Sep 1906 - Aug 1957) Obituary pic

s- Leatrice Lucille BUMPERS (5 Dec 1911)

Randall Hunter FINCHER pic


s- Gussie Maude HARRIS (pic)
s- Edna Earl UNKNOWN
Winona Helene FINCHER (9 Aug 1908 - 21 Oct 1992)
s- Russell Holmes SHOWALTER , Rev

Audio files about the PSFincher family by Buddy Fincher and Temple Tucker.

Charles Fincher Tucker Obituary
Memories of Anne Showalter, Scott Showalter and Russell Showalter.
Mitch Fincher's memories of his grandparents Theron and Lurline Fincher.
Photos of Buddy Fincher's Life.
Mitch Fincher's memories of his parents Ernest and Joanne Fincher.
Mitch Fincher's memories of his growing up Mitch Fincher.
Ernest Fincher Photos
"Maria Anderson Evans and Septima Anderson Fincher" by Alice Evans Allen. A wonderful account of the lives of the Andersons, Pickens, and Finchers.
>
"The Family of Elijah Fincher" by Rosalie Daniel. This 10 page paper about Septima Anderson's family makes for fascinating reading. Obtained from Barbara Brinick.
Elijah Fincher's grave site.
An Episode in the Fincher Family told by Rosalie Fincher Rothrock (Grammie). Obtained from David Rothrock.
Hilliard Judge Fincher

Hilliard J. Fincher's Estate Papers (1891)
Court Records from _Alabama Records_ Vol 91, Sumter Co. "Minors Reports of Cases to Alabama Supreme Ct." Book 18, Pt 2. Describes a court case involving Hiram Steele, John Steele and Hilliard J. Fincher.
"Marriage Death and Legal Notices from Early Alabama Newspapers 1819-1893", by Pauline Jones Gandourd 1981, referencing an article in "The Livingston Journal" 1865-1875. Livingston, Sumter Co. Alabama.
Descendants of Hilliard J. Fincher (1815-1869) in plain text

_Fincher in the USA 1683-1900_ by E.D. Fincher and Ann Wilson Fincher. Published by "A Press", PO Box 8796; Greenville, South Carolina 29604; 803/233-8355 (Are they still in business?)
Randall Fincher's March 15, 1992 letter describing his family.
Page certify marriage of Zelda Lurline Wallace and T.P. Fincher.
Mitch Fincher's Notes from the Fincher Family Reunion, (1992)
A letter from Ann Wilson Fincher, Sept 24, 1995. She writes about Hilliard J., tombstone and the Steele family.
General Information on the units of Hiram Steele and Elijah Fincher in the War between the States.

The Confederate War Records for the 40th Alabama and the 62nd Alabama , The military units of Hiram and Elijah Fincher 1861-1865.
Some Recollections Of An Old Soldier by Asa M. Piper. Personal account of the 62nd Al.
Sixty-Second Alabama from Alabama Her History, Resources, War Record, and Public Men from 1540 to 1872 (sent by Dan L. Philen ([email protected])
Hunter
Photocopy of Hunter Family Bible pages from Barbara Fincher Kelly.

Starts with J.T. Hunter and Frances Belk, 1865 Deaths Births

Hunter Family History, 1810-1965 by Victor Hunter. Starts with Alsa A. Hunter and Martha Stilwell, 1810. No copyright.
Kane
Funeral Pages for George H. Kane (1896-1962), and Ruth H. Kane (1898-1980) and Tombstone
Obituary for George H. Kane (1896-1962)
Delayed Record of Birth for Albert Kane.
Death Certificate for Albert Kane.
Memoir of Albert Kane by Virginia Kane.
A really poor quality 3 minute recording of George singing and telling jokes (1.7Meg).
Also check www.cyberdriveillinois.com
Killough
A really tiny Killough Family Homepage
Notes from _The Killough Family_ by Zora Cunningham Killough. The best work on the Killough Family.
Notes on _The Killough Massacre_ by Jack Moore
Notes on _Larissa_ by Ford and Brown. A good recount of the Massacre.
Obituary for William B. Killough, 1918
Notes from the RBBlake Collection Vol. LXV, account from WB Killough about the Massacre.
Pickens
_History of Old Pendleton District_ by R.W. Simpson
Starts with Andrew and Rebecca Pickens, but details a little of their background.
DAR Application from Linda Anne Daniel show descent from General. Andrew Pickens through Septima Anderson.
Notes on _The Old Stone Church Oconee County South Carolina_Details of the life of Andrew Pickens and Robert Anderson.
Letter by ?, received from Tom Foley. It starts with "Pickens family beginning in America". Details some early history of Pickens.
Notes on _Pickens Family of the South_ Rev. Sharp
Satterfield
Obituary for Glenn Satterfield (14 Jan 1912 - May 1991)
Social Security Application for Frank Satterfield.
1950 Census record for Joanne Grace Satterfield Sievers

Betty Satterfield Wedding 1959 with Frank Thomas Satterfield and Anna Grace Young Satterfield.
Sherman
Wallace
A Family Registry Page
Shows John Casady and Frances Killough as being the parents of Maggie Florance Casady gives dates.
Notes from a conversation with Lurline in 1982 about the Wallace family.
Obituary for J.D. Wallace
Texas Death Certificate for John W. Wallace (1871-1940).
I am converting all the non-copyrighted photocopied material into electronic form. If you have an interest in helping, please email me . Hopefully before too long all the appropriate documents listed above will have hyperlinks.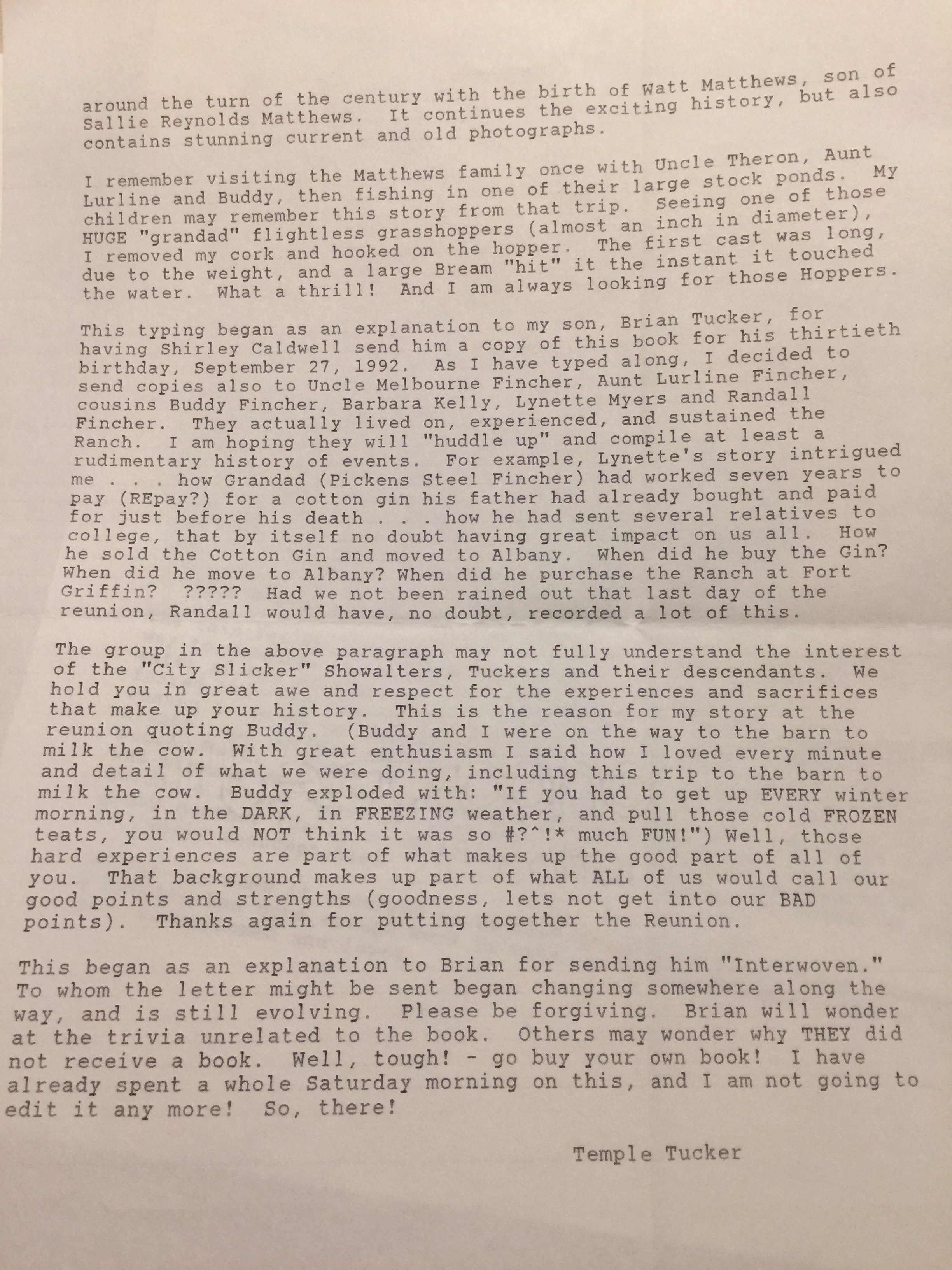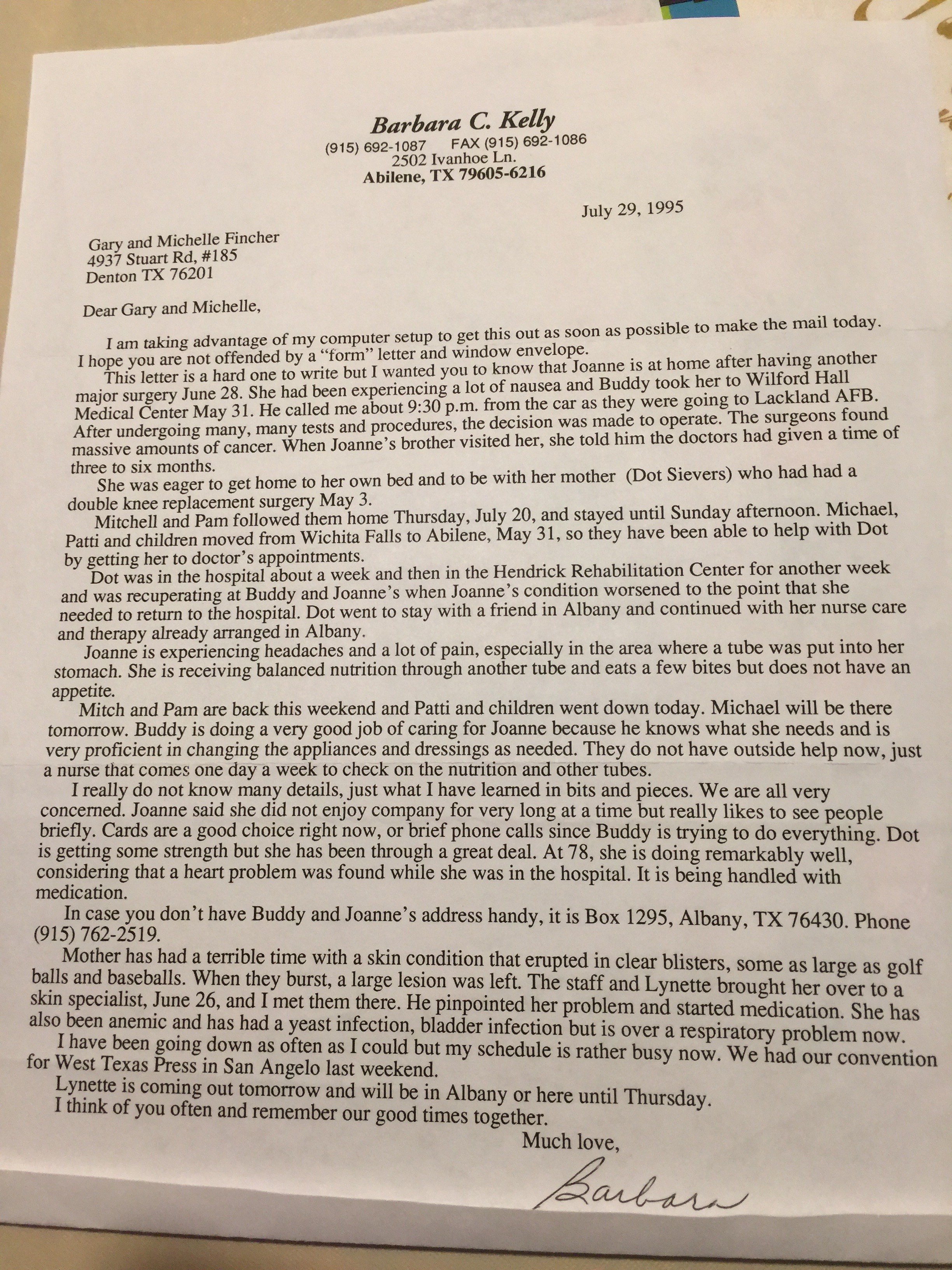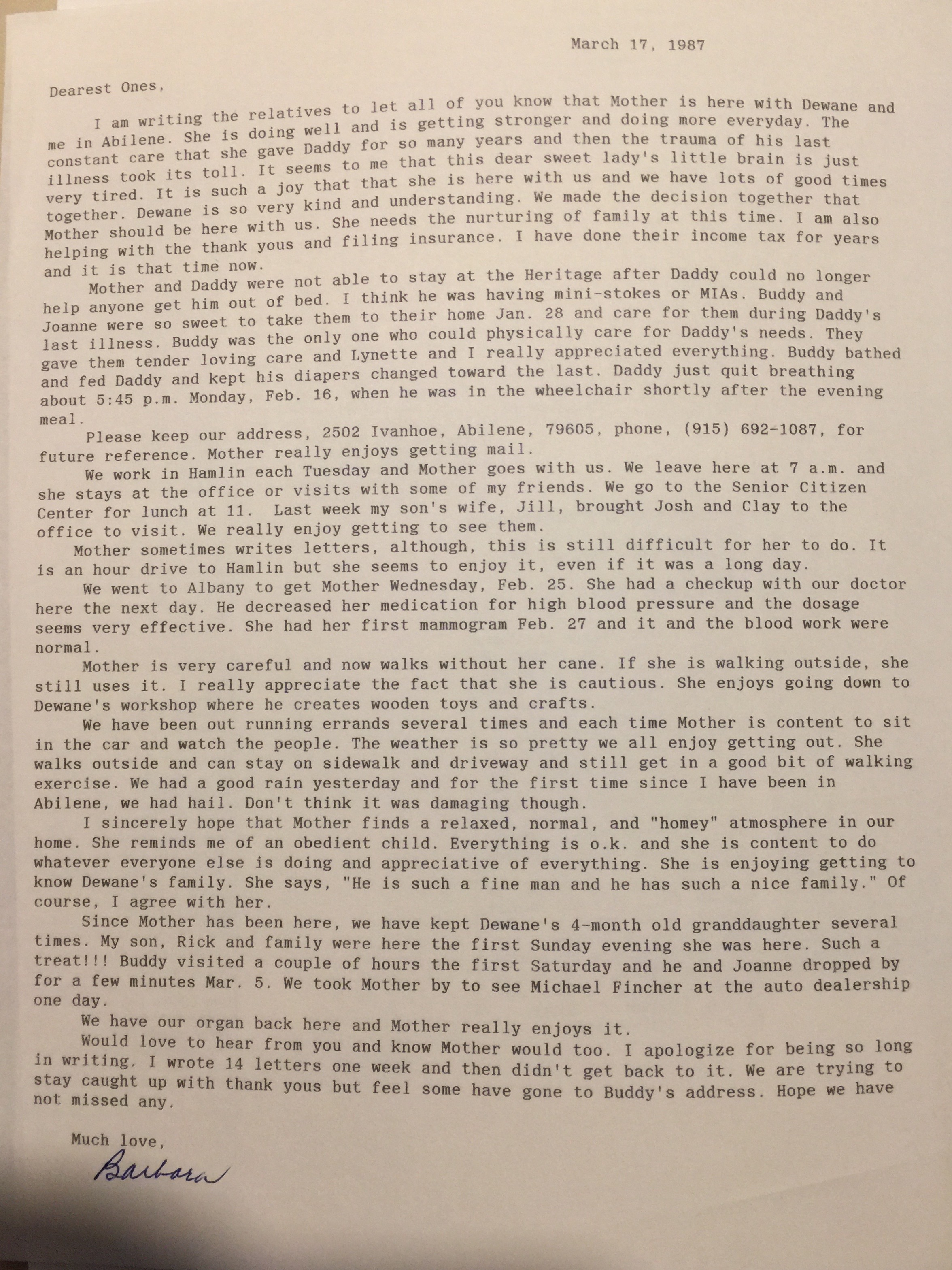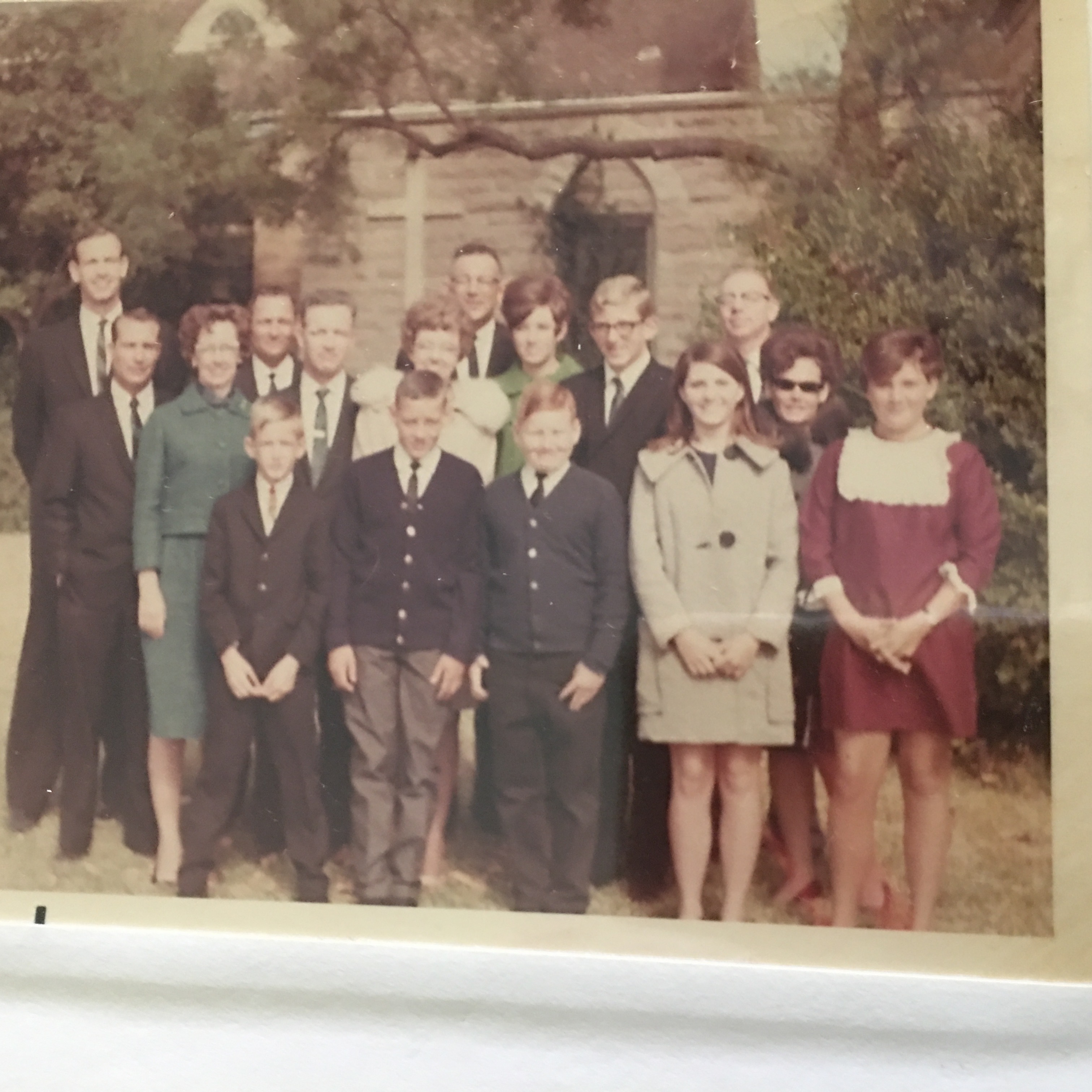 Buddy Fincher refueling in an F101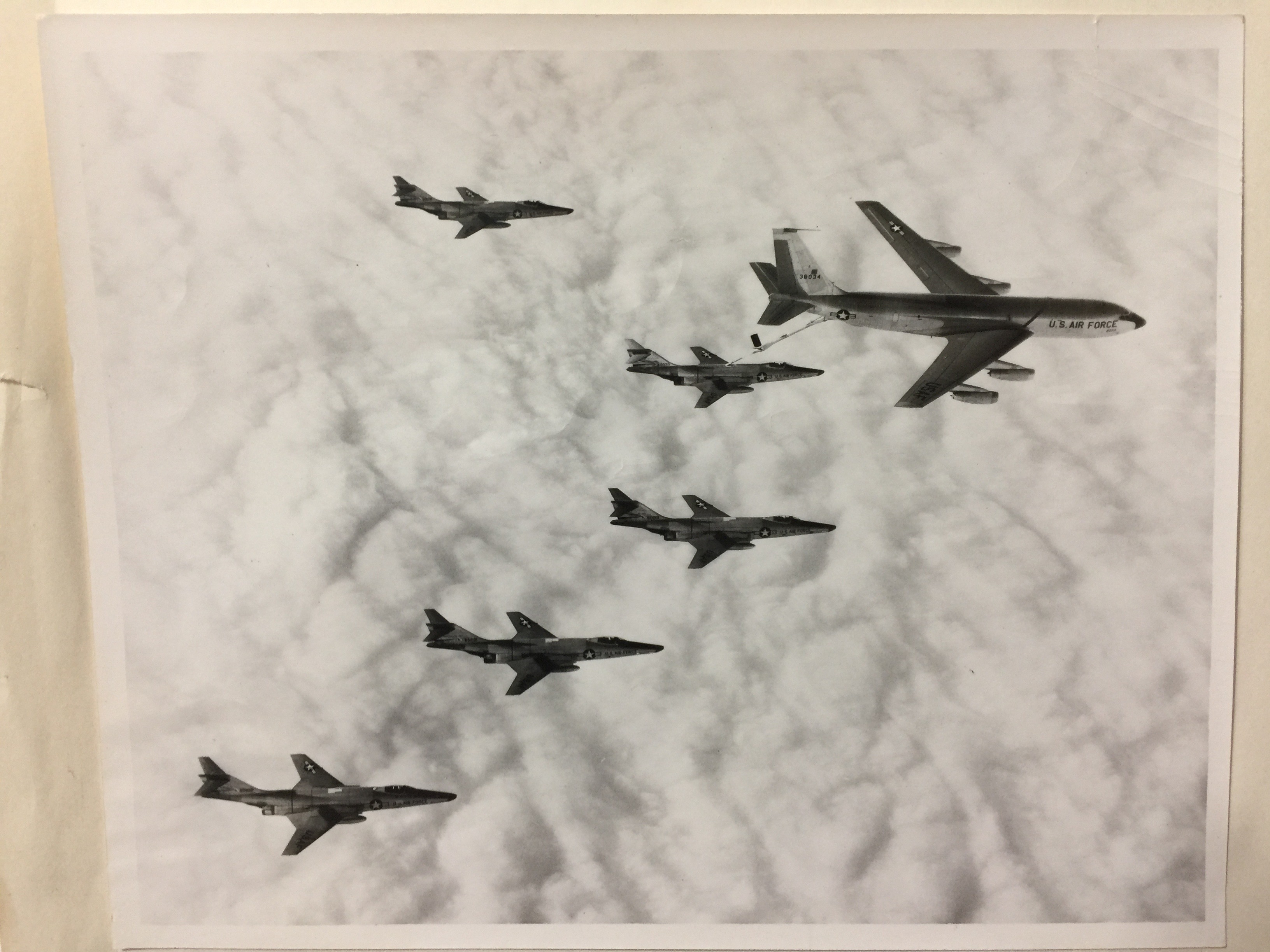 Buddy Fincher with Streak show bull on top row, PSFincher, ??, Mike, Buddy, Mitch Fincher with Candy the collie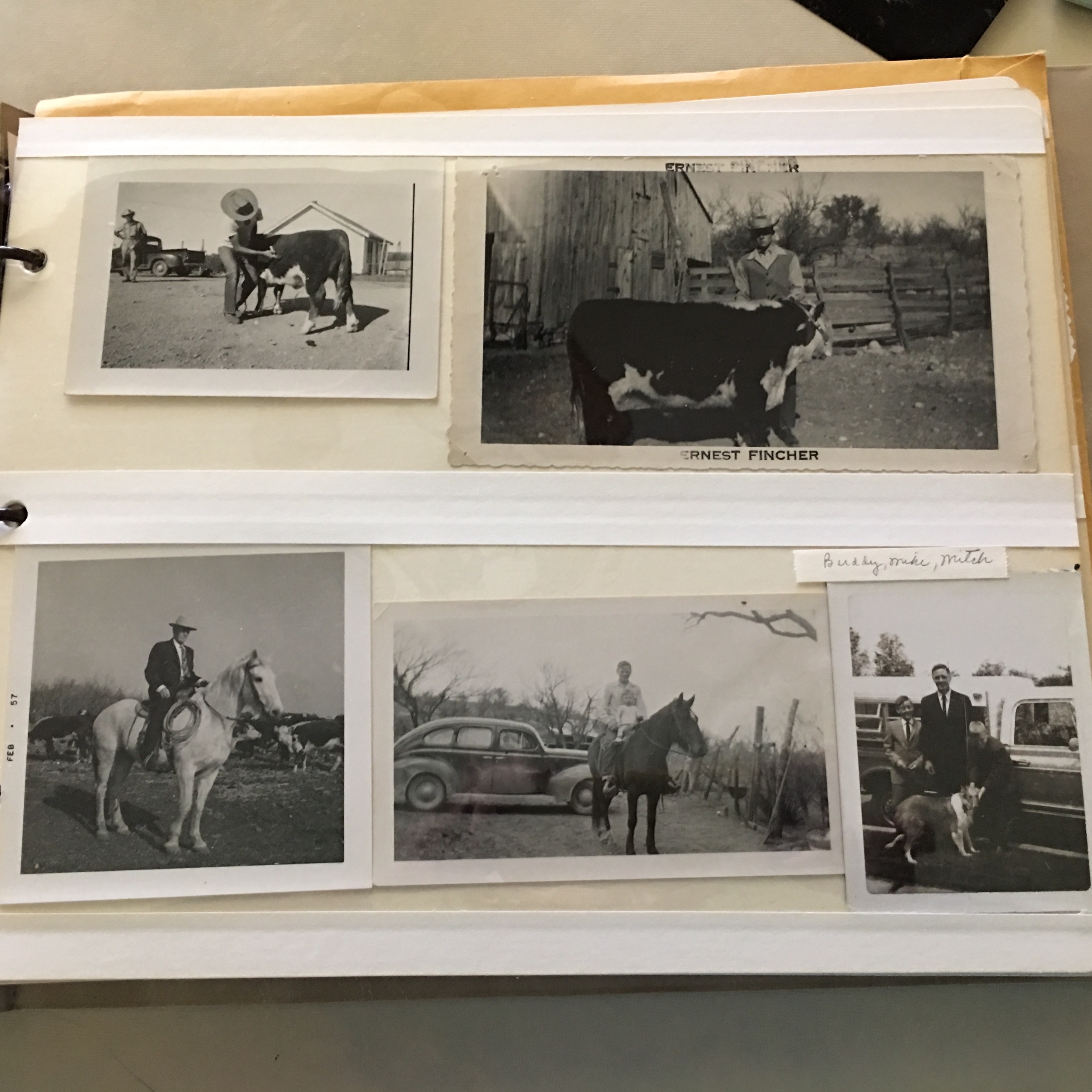 Craig family with Nannie (Nanette Hunter Fincher)
PS Fincher and Nannie Fincher